Easter Dresses
It is so hard to find cute dresses for girls over the age of 7. And it's even harder to find dresses for older than 7 years old that kinda match smaller girls dresses.
So, I had to make them.
This picture was taken after church, so the sun was behind the girls. I thought that would be okay, except it was still too bright for them to open they're eyes. Just look at Mandy! She kept smiling with her eyes closed and when I asked her to open them, she had to use her hands to try and get them to open. I guess it was too bright, even facing away from the sun.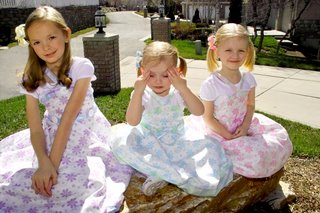 So we moved the photo shoot indoors. But that turned out to be a disaster too. So, here's the last picture I took of them in their Easter dresses. Every single time took the picture, Mandy or Eden would look away. But, for some reason, when I asked them to make a funny face, they all looked right up and held it till I told them to stop.