This Is It
No more excuses! No more procrastination!

No more DIAPERS!!!
(hopefully)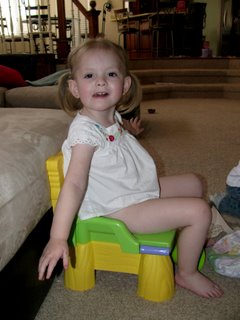 I've put this off for too long. Mandy will be 3 in May.
I thought about starting her potty training last fall, but we had just put our house on the market and I had high hopes of it selling quickly, so we waited. After a few months, I started thinking about it again, but the holidays were just around the corner, so we waited some more. After the holidays, we dropped the price of our house and I kept thinking we would sell it soon and didn't want to hassle with the potty training till after we moved, so we waited some more.
But, now that Paul has lost his job, and we're staying put for awhile, this is it!!! I'm sticking to it. It's only been a week, and things are still not clicking, but we're working on it.
Wish us luck!