Pearl Harbor
Today is going to be another double blogging day!
Wednesday morning we woke up early and went to Pearl Harbor. What a somber experience.
How appropiate that it was raining that day.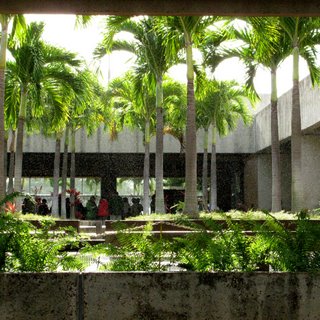 You can't really see it, but if you look closely you might see the rainbow in front of the battle ship.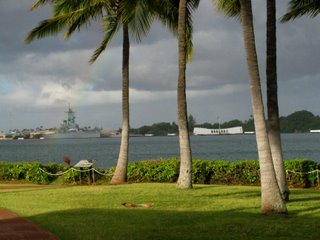 Before they let you go over to the actual memorial, they have you watch a movie about what happened at Pearl Harbor. While waiting in line to see the movie, I was listening to my audio tour to some of the things I hadn't heard yet. I don't remember exactly what it was talking about, probably a story of some soldier and the mother recalling how she felt when she received news of her sons death. For some reason I started tearing up. Probably because I absolutely hate war. So many people die, get injured, lose loved ones... I don't like it.
I never realized that the attack on Pearl Harbor was just part of what happened. All around Oahu, at all the military sights, got bombed. Each little circle shows where attacks happened.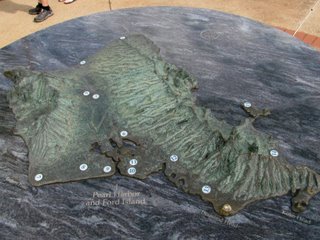 On the audio tour, it told lots of stories and tons of facts. The museum was cool. They had very detailed, personal things out. One display was dedicated to a soldier by the last name of Carter. It had his high school picture, his uniform, the letters informing his mother of his death, a picture with him and his girlfriend... stuff like that.
So, here's the memorial.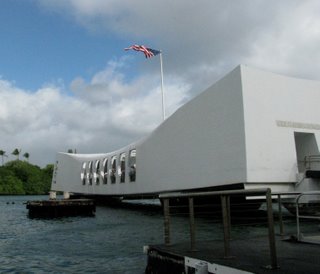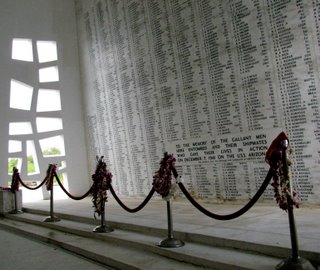 Hmm... I wonder...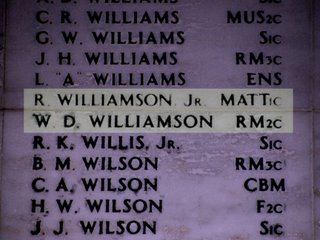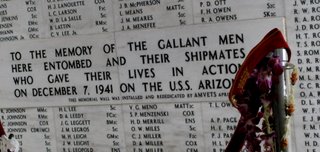 You could drop a flower in the water as a way of remembering the lives that were lost.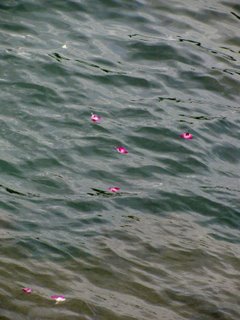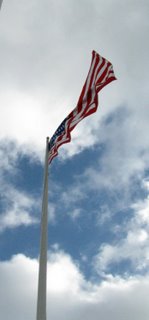 Here's a model of the ship and the memorial. That ship was huge!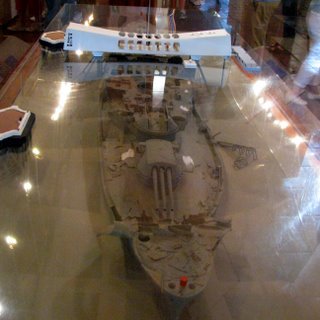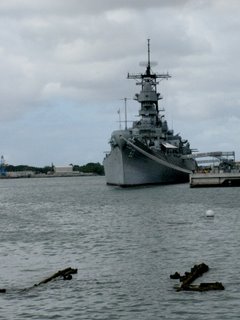 The innards of a submarine.