HAPPY HALLOWEEN!
Our first Halloween party of the year! My mother always has a party for her grandkids and this year was no different. The kids had a blast! There were crafts, games, and a spooky story about a monster with fun stuff that went along with that. It was a ton of fun. I wish I would have taken more pictures. I don't think anyone got all the kids in one shot with their costumes on.

One thing that made the whole day a bit stressful for me was, in the middle of crimping Ashley's hair, our realtor called and asked if I could have the house ready for a showing in 45 minutes. I had plans to crimp Eden's hair, curl Amanda's hair and put makeup on them all. But as it was, I had to quickly finish up Ashley's hair, throw their costumes in the car, quickly get the house ready and leave. So the girls got dressed at mom's. Hopefully I'll have more time to get them ready before Trick-or-Treating. I'll take more pictures of them all done up! Oh, and the people who were supposed to walk through our house that day, might not have come. Or at least they haven't expressed any interest in the house since.

Amanda is a beautiful princess!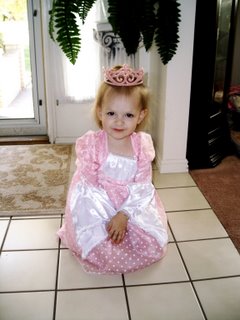 Eden is an adorable witch!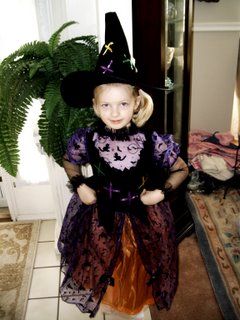 And here's our Dark Fairy (Ashley)!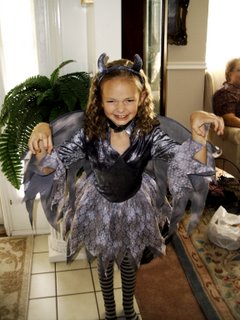 So here goes! We started with a Halloween necklace craft. You can't tell in most of these pictures, but they are working on necklaces. (On a slightly different note, don't get the necklaces from Oriental Trading, the last 2 times I've gotten them, they've been extremely difficult to thread the beads on.)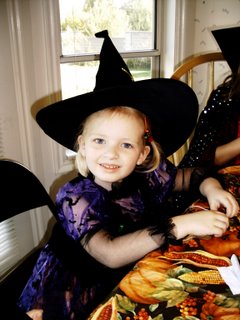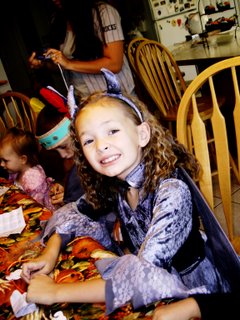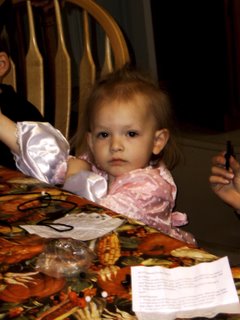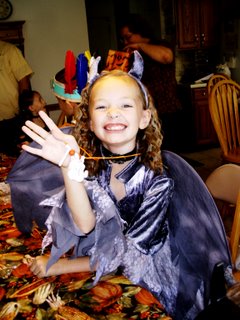 Next Mom told the kids about the cathedral they went to. The same one that Quasimodo lives in. And in the basement there was a dead monster and she and Karl were able to take some of the pieces. Yucky! She put things in paper bags, like flour tortillas for the skin, jello for some other part, and several other bags that had various things in them. The kids weren't allowed to look in the bags, just feel what was inside. Now, that may sound gruesome to you, but the kids liked it. Well, sort of. As you can tell by Eden's and Emily's faces, it was kinda gross.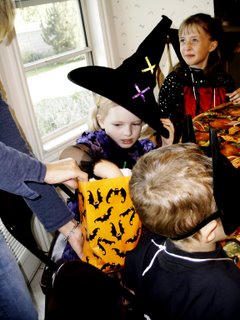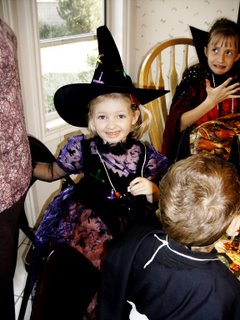 After that wonderful story, Janina had the kids play a little game. They had to pick a paper pumpkin out of a cauldron and the papers said different things on them. If you were lucky, all you had to say was "trick-or-treat" to get your treat, but others said "Walk like Frankenstein" "Howl like a wolf" "Laugh like a witch" and other fun stuff like that, and you had to do what the paper said before you could get your treat.

After the game, Mom had the kids make bleeding eyeballs! And then they ate them!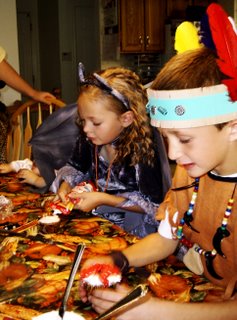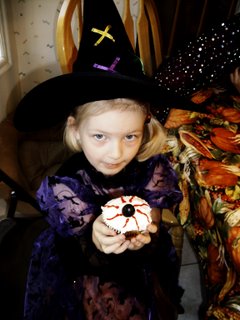 As the kids finished eating, we got out Halloween stickers and had a some fun with that.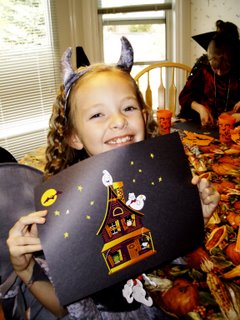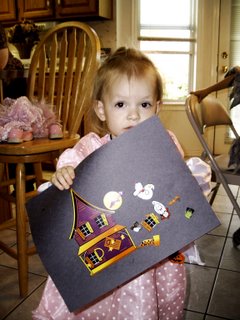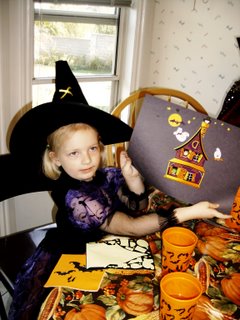 Unfortunately I didn't get a picture of everyone, but here are some of the characters that showed up.

Emily was a vampiress, and even though Micheal isn't wearing his costume in the picture, he was a washing machine. It's the coolest costume ever!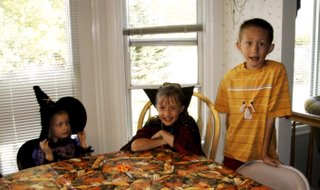 Sweet, tiny Bailey was a pumpkin!

Emma was a cute bumble bee.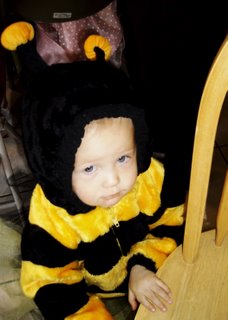 And of course I wish I'd gotten a picture of Melanie in her outfit. She was a baseball. If you want to go look at Christie's blog, she has a picture of Mel's costume. And Kara was adorable in her poodle outfit!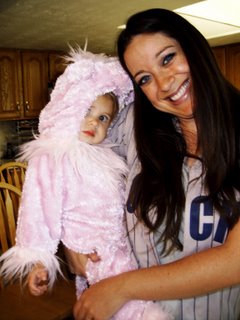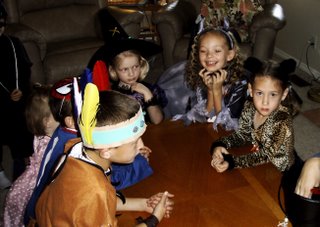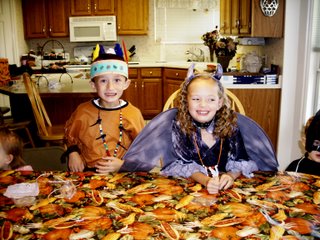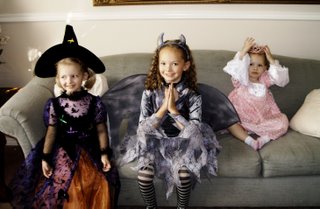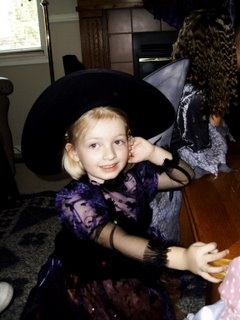 On a totally different note, Paul comes home on Wednesday and is home for 4 whole days!!! We're so excited to have him back for a bit!