Winter Wonderland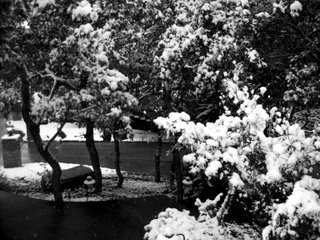 This is what we woke up to Sunday morning! I know some areas in and around Utah are getting more snow, but we thought it was pretty cool (or cold). We had almost 3 inches out there and once it all melted, it started snowing again.
I liked it because I knew it wasn't going to be around long. Don't get me wrong, I like winter well enough and even the snow. I like the snow when I don't have to go out in it and I can just enjoy it in my nice warm home.
But I'd prefer the snow wait till after Halloween and all the Trick-0r-Treating!