The Results
I was mostly right! When I got Amanda up this morning she had 3 curlers on the top of her head. Eden had just a few on the bottom that were falling out but the rest stayed in. Surprisingly, Ashley's hair was dry! So, here's how their hair looked today.
Eden was so excited to show her teachers her curly hairdo, and Amanda is too young to realize that her hair is really only curly up top. They loved it all!
If you look really closely, you can see Amanda's hair is curled on the top with a bit of extra body on one side.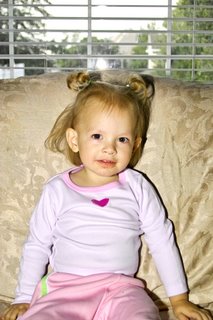 I promise Eden is only 4. I think she looks a lot older though.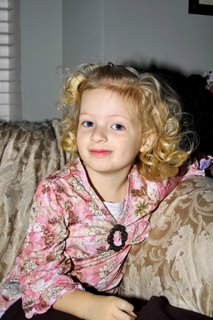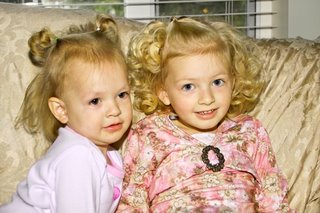 I wish I would have gotten a picture of Ashley's hair before she went to school, but as I was walking into the office to get the camera I saw her carpool pulling up to the driveway and I didn't have time. So this is what her hair looks like after going through 2 really windy and slightly rainy recesses. It was a lot curlier.