They're being too quiet...
I don't know why it is, but when kids are being too quiet, they're usually doing something they shouldn't.
When Ashley was young and she was being quiet, she was normally coloring on things like books or walls or herself. When Eden was being too quiet she was just pulling everything out, her clothes, toys, shoes... anything. When Amanda is being too quiet she could be doing just about anything!
So, the other day as I was cleaning (yeah right, I was probably blogging) I suddenly realized that it was too quiet. Eden and Amanda were having one of those days where they just can't get along, but for some reason insist on playing together. Instead of hearing the arguing or the "that's mine" coming from upstairs, I heard... nothing.
I went up to investigate what they were doing.
To my pleasant surprise...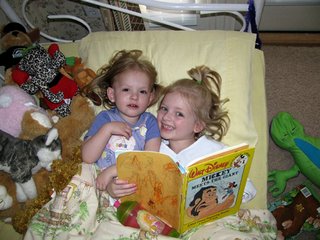 They were both crammed onto Eden's bed along with about 20 stuffed animals, reading books! They were magically getting along! As you can see by that book, that's one that Ashley colored on when she was younger, probably during one of those "too quiet" moments.
I love my girls!