Bow Holder
With Paul up in Washington and my girls going to bed by 8:00, I've taken up a few hobbies to help keep me sane during the long evening hours when it's just me. I tried the vegging out on the couch thing with snacks, but that got old, and I gained weight, which doesn't fit in with my losing weight plans.
So as most of you know, I started making hair bows for my girls. I've made around 10 bows now and each time I put them away, I have to carefully set them in a spot where they won't be smashed by all the other hair stuff. I don't have enough drawer space in my bathroom to keep all the bows nice and neat, so I started looking around for hair bow holders. I found
these
and thought they were absolutely adorable! At the time I found them, she wasn't taking orders because she was behind. The cheapest one on there is $35. She's now taking orders, but I don't need one anymore!
I made my own pattern and just went for it! But since I have 3 girls, I still need to make one more. Oh, and please let me know which bodice top you like better. I can't decide if I like it straight across or with the little neck cutout.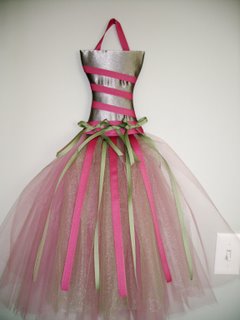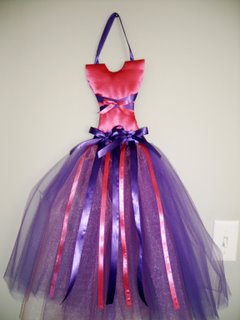 The colors are off slightly. The top one is a sage green with a soft rose pink color. And the bottom one is a bright pink with a dark purple. The pictures for some reason didn't turn out very well.
What you do is clip the bows on the ribbons that hang down. That way, they aren't taking up drawer space and they aren't getting squished. My cost, about $8 each. Not as great as the other lady's, but hey, I'm still working on it.