Hair
So, the other day I was looking at someones blog (don't remember who's exactly) and they had links to some really cute blogs about doing girls hair. I checked them out and loved them all! Most of the braids and other techniques I knew how to do a long time ago and did most of them on my dolls hairs. Over time, I completely forgot about them. Some of the styles on these blogs are very time consuming and since Ashley already has to be up at 7:00 every weekday for school, I thought I'd start off with something simple. Now, these other ladies are experts or something cause their dos look so adorable! They use really cute bows to finish off the look, but of course, I had to dress Ashely in a red shirt, and we have no red bows, so this hairdo is bow-less. If I can figure out how to list blogs that I like down the side of my blog, I'll be putting some of the hair blogs up there.


The top was just 3 little ponytails going down each side of her head and each ponytail is flipped over and under.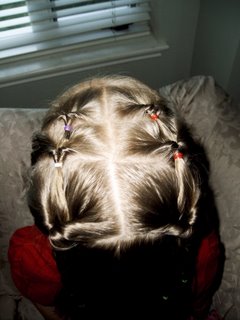 If I would have had the time, I would have put the ends in pig tails and done messy buns on them, but her carpool was going to be here any minute, so I did the twisted braid things instead and left the rest of it down straight. I know, not the best, but I'm just getting back into it. Hopefully I'll get better as I practice!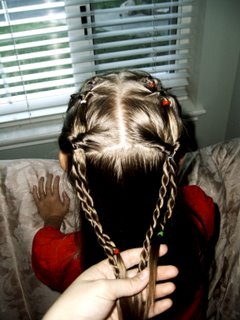 These next 2 pictures are pretty self explanatory!
Thankfully we have a huge bathtub that holds all three of them at the same time. They love playing in the water and get along wonderfully during bath time. Does anybody else have kids that just seem to get along better with each other during bath time?