Not Just Black & White
Today I got rather bored with cleaning for the open house this Saturday so this evening I decided to take a break and do something I've wanted to do for a couple of months now.
This black shirt is mine. It was just a plain black, but I got some iron-ons for it. The cute frog is now climbing my left shoulder and the flower is on the right sleeve! They really do match, the picture just didn't turn out right.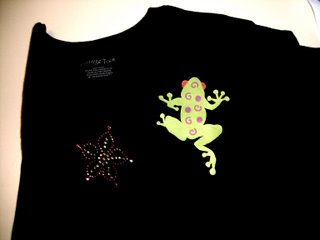 These plain white shirts (with the puffy sleeves!) were from Walmart and for some reason they were only $2 each! So again with the iron-ons! The 2 ballerinas are for Eden and Ashley, and since the store only had two of those, I got the fairy one for Amanda.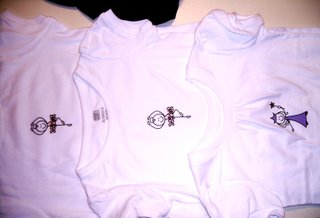 I love iron-ons! They can dress up and change just about anything. I have a Halloween iron-on that I need to add to a t-shirt and I have a very elegant flowery one that's emboirderd that I'm going to be putting on a plain skirt that I have. I also want to get a couple to add to a pair of jeans. I've even used one to cover a very small whole I had in a t-shirt once.