Creative!
Why is it that when you're really tired and not thinking straight, a cute or creative idea comes to you? My nephew, Carson is having a little birthday celebration tomorrow and as I was wrapping his gift, just moments ago, I thought I should put one of the cute cards that I got from Costco on it. So, I went up to my craft room (where I keep said cards) and the first thing I saw were these cute colored pipe cleaners that I've had for years and of course have never used. So I figured, "why not!?!"
So here's how it looks! Pretty cute I think, although if I were putting it on a girls' gift, it would have to ton more pink!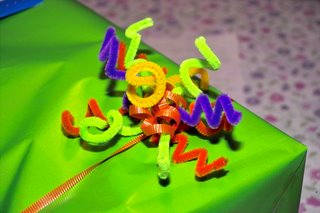 I basically took 6 pipe cleaners and did a zig-zag to 3 of them and then curled the other 3. Very simple and very cute! I don't know, maybe I'm delusional since it's late and I've been working all day.